Springmann, Kurfürstendamm 177, 10707 Berlin

HELEN SCHNEIDER, Jo Ambros (guitar/composer), Oli Potratz (contrabass)
January 27 2018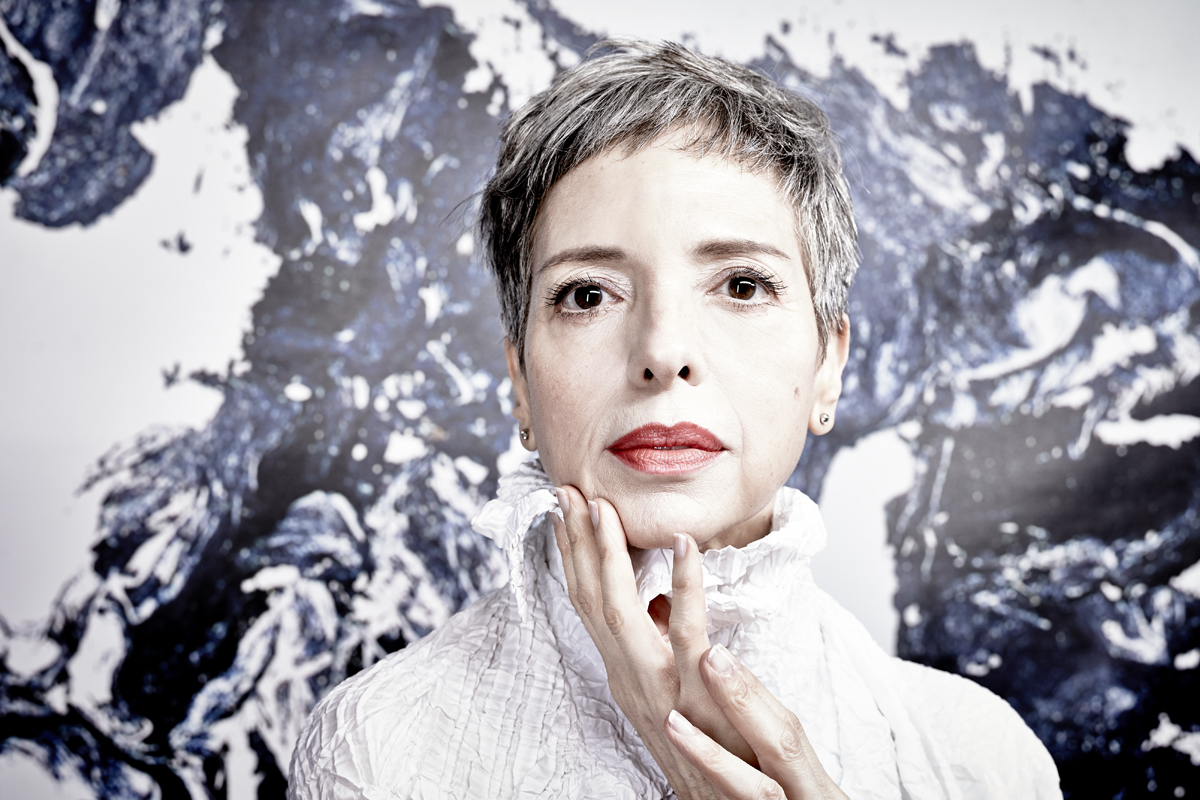 artist portrait by Anatol Kotte
She is that certain age. The 1960's, an era full of questions and upheaval, formed her. She is a woman who has achieved so much artistically and who, even now, some 44 years after she first "hit the stage", is still a source of fascination – and understandably so.
Helen Schneider, the legendary American singer, musical star, actress, jazz lady and "Diva" award- winner is a veritable tour de force, time after time, whether singing or acting; or, one might better say, a musical chameleon, since this artist, born and bred in Brooklyn, not only has astonishing vocal possibilities but is constantly transforming herself.
After the release of the albums "So Close" (1976) and "Let It Be Now" (1977) and extensive tours in the USA, she arrived in Germany in 1978 to launch her first European tour. She played to an enthusiastic public that immediately took a shine to this lady from the States. She continued working in Germany and the countless productions that followed prompted not only empathy among her fans but also great acclaim from colleagues and journalists for her astounding artistic diversity. Recordings in all genres followed along with an invitation in 1982 to be the first international artist ever to perform in the "Palast der Republik" [East German Parliament].
From 1984 to1986 Helen Schneider took a break from her musical career, opting instead to take acting lessons in New York City. Back on German soil in 1987 she began her acting career as Sally Bowles alongside Hildegard Knef and Wolfgang Reichmann in a production of Cabaret at Theater des Westens in Berlin. Numerous other engagements followed with roles such as Frida Kahlo in "The Story of Frida Kahlo" (Vienna and New York), Norma Desmond in "Sunset Boulevard" (Wiesbaden, Bad Hersfeld and Bonn), Eva Péron in "Evita" (Bad Hersfeld), Anne Sexton in "Transformations" (Stuttgart), Anna in "Seven Deadly Sins" (Vienna), Mrs. Robinson in "The Graduate" (Hamburg), Victor/Victoria in "Victor/Victoria" (Bremen) and Judy Garland in "End of the Rainbow" (Klagenfurt). In this métier also she was persistently thrilling and in 1986 she received the DIVA Award for her outstanding achievements in German entertainment.
Helen Schneider has enjoyed participating in various wide-ranging projects such as a Stephen Sondheim evening with the WDR Big Band directed by Don Sebesky; concerts with the Bremen Philharmonic Orchestra under the baton of Markus Poschner; a performance of music from the Great American Songbook with Bob Brookmeyer; a concert of swing music at the JVC Music Festival in New York City with the Count Basie Orchestra; numerous musical/theatrical evenings of Brecht/Weill music; a classic evening of Charles Ives music with Dennis Russel Davies, or a recording of the works of Bert Kaempfert with the SWR Big Band. Hardly any artist succeeds, with such playful ease, to present herself again and again and again in new contexts. Be it on the stage in one of the great musical roles or in concert in front of a microphone, her voice elicits every conceivable nuance.
As a private individual, Helen Schneider has made every change in her life with flying colors, both the heights and the depths she has experienced in her 64 years. When faced with difficult situations, even the loss of a loved one, she approaches them courageously, without hesitation. This courage to reevaluate her life, time and time again, is the basis for her ability to change.
On her last album "Collective Memory", which was released in September 2015, she packed the experiences of her life into 12 wonderful songs. With her new album "Movin'On", she takes the story further . These 10 songs are about the continuation of life after overcoming grief. With "Movin'On" Helen Schneider presents an album in which you can experience and relate to the soundtrack of her life.